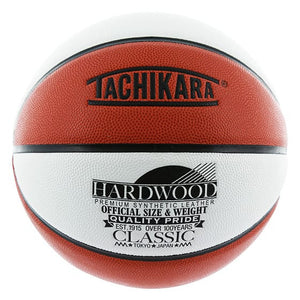 HARDWOOD CLASSIC size6
Sale price Price $780.00 Regular price
ITEM NO : SB6-102
COLOR : Orange / White / Black
SIZE : 6
MATERIAL : Micro fiber composite PU
HARDWOOD CLASSIC is the highest quality model for indoor use basketball recommended by TACHIKARA. HARDWOOD CLASSIC is designed for all-level of players.
It has easy handling being made with micro fib

er

and the finest synthetic leather material for indoor use giving it superior flexibility and grip with deep channels. For all basketball players in the world who play on hard wood courts, HARDWOOD CLASSIC is the finest indoor basketball.
HARDWOOD CLASSIC 是TACHIKARA 推薦的多款室內籃球中擁有最高品質的型號。目的是為了向世界不同層面的用家提供一個擁有最佳控制性的籃球。
採用最好的室內用合成皮革加上深坑紋設計令HARDWOOD CLASSIC 可以為你提供一流的靈活性和抓地力。其設計是為了成為適合於世界各地的硬木地板室內籃球場中使用的最高品質籃球。