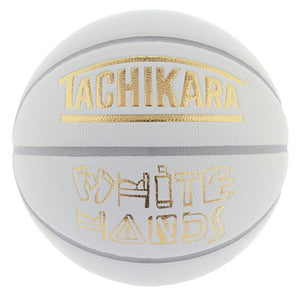 WHITE HANDS BASKETBALL size 6
Sale price Price $580.00 Regular price
ITEM NO : SB6-201
COLOR : White / Gold
SIZE : 6
MATERIAL : Composite PU
The standard basketball that TACHIKARA recommends for outdoor courts, WHITE HANDS BASKETBALL.
Made in white for visibility in dark environments so that it can even be used in outdoor playgrounds without flood lighting. Durable synthetic leather provides excellent grip for perfect handling and control even on hard asphalt or dusty rubber surfaces. A deeper and wider pebble channel (groove) supports accurate shooting ability and feel in the hand, even outdoors.
WHITE HANDS BASKETBALL developed by TACHIKARA for street ballers who hit the outdoor playgrounds day and night.
TACHIKARA 專門為室外場地球員製作的籃球, 白色的外觀令你就算在黑暗的環境都可以輕易看見它。良好的爪地力和高耐久性的合成皮革給予你最佳的運球控制 – 即使在瀝青地上。深的紋令你有更佳的射球表現。
WHITEHANDS BASKETBALL

 

是TACHIKARA

 

專為街頭籃球員製作,並適合於白天以及晚上的室外場地使用。