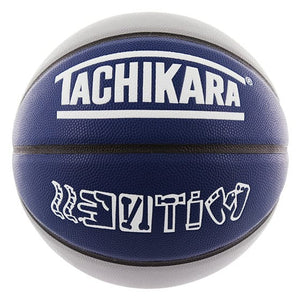 WITNESS -George Town-
Sale price Price $680.00 Regular price
ITEM NO : SB7-211
COLOR : Navy / Gray / Black / White
SIZE : 7
MATERIAL : Composite PU
WITNESS Series is a new line of game basketball from TACHIKARA and size 7 for indoor/outdoor.
The material is durable and the synthetic leather material grip provides superior handling and stable control on hard asphalt or dusty rubber ground. Deep pebbled channel support enables a touch that sticks to the hand helping give you precise shot under outdoor. 

By flipping WITNESS, we expect the attitude to be witnessed with the side and engraved on 2 panels.
This model, WITNESS -Georgetown- reproduces Georgetown colors which are symbolic colors of this basketball also based on TACHIKARA's signature navy and grey synthetic leather.
WITNESS 系列是TACHIKARA 同時為室內及室外場地設計的全新比賽用7號籃球。採用了耐用的合成皮革材質為使用者提供硬地或塵土飛揚的環境下卓越的操控性和穩定性。
深鵝卵石坑紋使WITNESS 擁有如同室內籃球的手感,並為使用者提供更精準的射球。WITNESS -George Town- 的基礎設計是在兩個相同的面板上使用George Town 的代表性籃色,另外一邊則採用了灰色,令 WITNESS 擁有非常奪目的外觀。
WITNESS -George Town- 再現喬治城的經典配色,籃灰色的合成革同時也是TACHIKARA 的標誌性顏色。